Healthy Dinners at Escrick Primary School
We pride ourselves in supplying our children with excellent food. We feel that it is one of the most important parts of a child's life – to eat properly.    
Eating a healthy diet enables a child to live life to the full and gives them a better performance all round, specifically helping with their concentration levels – which in turn affects achievement.    
So we encourage all of our children to have a school dinner. There's a great amount of choice for them suiting a variety of tastes.    
We are now able to offer changeable hot dinners and packed lunch options through the week. Please contact Mrs Gibson-Bone for more information. 
It's lovely to see so many pupils bringing in such a wide range of healthy packed lunches and snacks. Can we please remind you that a healthy, filling breakfast and a healthy snack at break time provides a little boost for your child's learning during the morning sessions. A healthy dinner then also provides a further boost throughout the afternoon session until you get home or into after school clubs.
Can we please ask that foods high in fat and sugar are not sent into school as well as taking into account pupils in school with nut allergies.
Thank you
School Parking in Escrick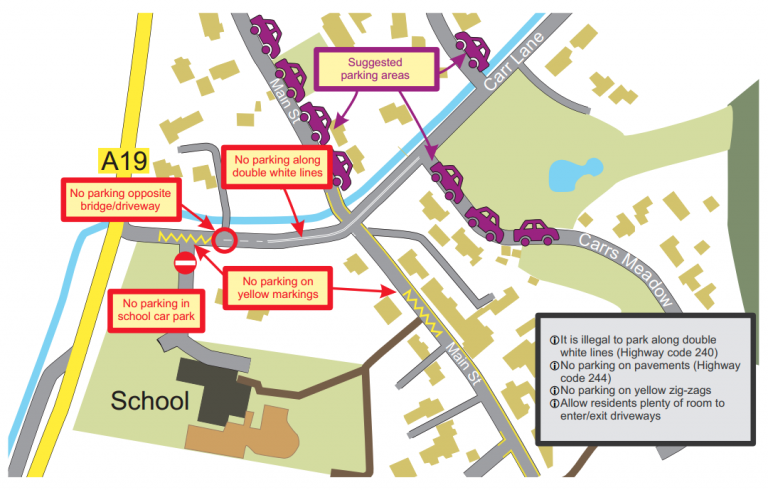 Uniform Supply for Escrick Primary School
You can find the website of our uniform supplier, school-shop here.
For second hand uniform enquiries, please use this google form or email escrickcpsecondhanduniform@gmail.com to find out more.
Parent View
Consultation for Home School Agreement
The Parent View link below takes you to the Ofsted website. Parent View is designed for parents and carers to complete a survey all about our school. The questionnaire has 12 questions to answer, for example, 'My child is happy at school' with a choice of responses ranging from 'strongly agree' to 'don't know'. 
At Escrick C of E Primary School we value your views. We do this through our questionnaires and surveys. Please find the results of our latest 'Survey Monkey' in the attached documents below:
DFE School Performance Tables
Please find below the link to our school dashboard. This displays all of our progress and attainment data and is where you can compare us to schools nationally. 
After School Clubs at Escrick Primary School
At Escrick we believe in broad experiences outside of the classroom as well as inside. With this in mind, we carefully plan our after school and extra curricular clubs based on pupil and parent voice. 
Mrs Gibson Bone sends out letters in advance of the club and clubs are usually on first come, first served basis so get replies in early.
If you have any suggestions, please see Mr Deakin and we will do our best to accommodate as many as we can.
Ben will continue to run the sports club after school on Mondays.
This term the clubs on offer are currently being reviewed following the latest Health and Safety guidance so watch this space!
Zac's Club – Childcare Provision
Zac's Club is a high quality childcare facility, located in the village of Escrick between York and Selby.  Also serving the villages of Stillingfleet, Naburn, Riccall, North Duffield, Skipwith, Wheldrake, Fulford, Barlby, Cawood, Kelfield and Wistow, and much further afield, they pride themselves on working closely with families and the communities they serve.
They provide a Before and After School Club, held here at Escrick C of E Primary School, for children aged between 4 and 11 years, and a Children's Day Nursery for children aged between 3 months and 5 years. Zac's Club are fully Ofsted registered, with both settings having been awarded a 'Good' rating continually since their very first inspections.
Providing inspiration for creative minds, their activities are tailored to various age-groups that give them everything they need to ensure that you can leave them in total peace of mind. Their friendly staff are welcoming and offer genuine care for your child, taking the time to listen to their individual needs and also those of parents.
More information is available at: https://zacsclub.co.uk/